Agile methodology has taken the software development world by storm and rapidly cemented its place as "the gold standard." Agile methodologies all started based on four core principles as outlined in the Agile Manifesto. These methodologies are rooted in adaptive planning, early delivery and continuous improvement, all with an eye toward being able to respond to change quickly and easily. We deliver SCRUM and DevOps trainings and certifications.
SCRUM Certification scheme
SCRUMstudy certified professionals help organizations improve their project delivery processes which leads to increased ROI. Their specific Scrum knowledge promotes a practical approach to product development, which includes the anticipation and response to issues and changes in a timely manner.
Though there is no mandatory prerequisite for most of the SCRUMstudy certifications, it may help to follow the preferred hierarchical structure.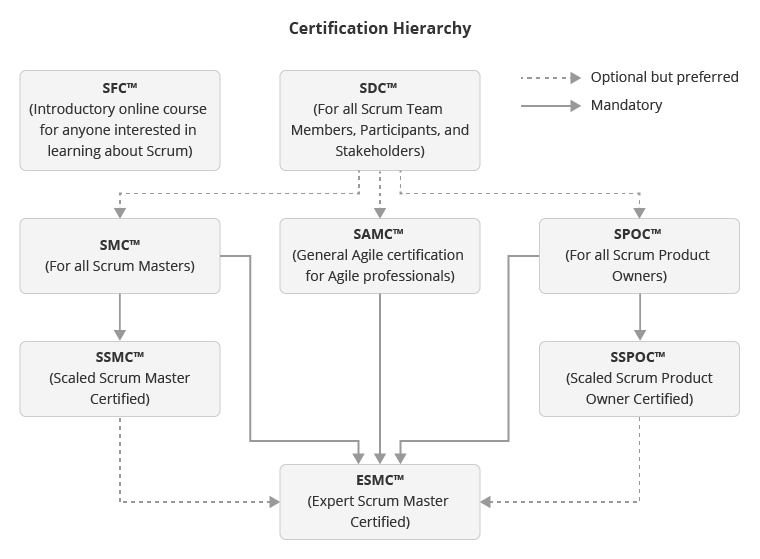 DASA DevOps
 

Certification scheme

The DASA DevOps Certification Program is designed for passionate IT professionals who want to succeed with DevOps. Every certification covers specific topics from the DASA DevOps Competence Model, helping DevOps and Agile teams to build the right mix of skills and capabilities.

The DASA Competence Model offers a maturity model of 5 levels for professionals and teams. The maturity distribution of DevOps competencies may be different per individual, however, each team will need to have sufficient competencies to ensure performance and output.