ITIL, a professionally recognized certification scheme, provides comprehensive, practical and proven guidance for establishing a service management system, providing a common glossary of terms for businesses using IT enabled services.
ITIL
® V4

Certification scheme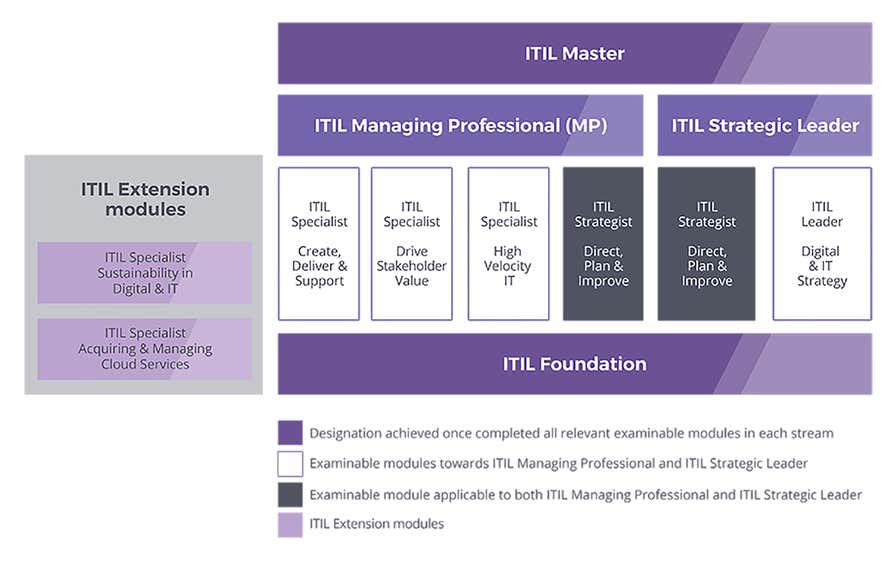 Copyright © AXELOS Limited 2016. Used under permission of AXELOS Limited. All rights reserved.
ITIL Managing Professional (ITIL MP) targets IT practitioners working within technology and digital teams across businesses. The Managing Professional (MP) stream provides practical and technical knowledge about how to run successful IT projects, teams and workflows.
ITIL Strategic Leader (ITIL SL) recognises the value of ITIL, not just for IT operations, but for all digitally enabled services. Becoming an ITIL Strategic Leader (ITIL SL) demonstrates that the professional has a clear understanding of how IT influences and directs business strategy.
To obtain the designation ITIL Managing Professional or ITIL Strategic Leader, the professional must complete all modules in each stream, with ITIL Strategist being a universal module for both streams.